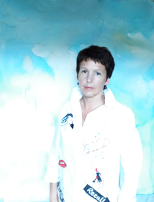 Olga Martikainen is an artist, designer, interior designer, photographer and TV host in Finland.
Born 1968.
MA Design 1990
Work experience for more than 25 years in different companies and projects.
Some group and solo exhibitions and publications in Finland and abroad.
She likes to use words amazement and joy instead of inspiration, mostly because it reflects her attitude to life and to the artistic process itself.
Life in all its diversity is the everlasting source of ideas, images, impressions which makes an artist being sensitive, open minded, susceptible and awaken to the beauty of the world.
She likes watercolour as an artistic media for its  feature of capturing you totally in now and here. Media that doesn't accept absence.
Photography for her is also the way to touch the  fragile magic of Now.
Creative experiences is the way of life, the way to be in a very personal touch with the reality and constant attempt to transfer into visible object the what eye sees and what the soul feels and understands .